Florida's Atlantic Coast is lined with world-famous attractions and gorgeous cities located directly on the water. Naturally, it's become a massively popular destination for both visitors and people looking to become permanent residents, especially Daytona Beach, otherwise known as the World's Most Famous Beach. Here is a list of 7 restaurants in the Daytona Beach area we think you should visit!
1.) 31 Supper Club
31 Supper Club is an upscale supper club in Ormond Beach, opened to the public on New Year's Day 2015. The charming Prohibition-style restaurant showcases some of the final remaining art pieces from Battleship House owner Frederick Dana Marsh, including his masterpieces The Amazon and Timicuan Princess. Zebra-patterned chairs are meant to evoke the splendor of New York City's famed El Morocco nightclub, while the main bar salvaged from a Chicago speakeasy is meant to recall the heyday of gangsters such as Al Capone. High-quality entrees served up nightly include duck marsala, housemade pasta, and hanger steak, scallop risotto, and the restaurant's signature surf and turf platter, prepared with filet mignon and softshell crab. A dance floor is offered during the evening hours, showcasing live music performances throughout the week.
Address: 31 W Granada Blvd, Ormond Beach, FL 32174
2.) Chart House
Chart House is an upscale chain eatery originally founded in 1961 by Buzzy Bent and Joey Cabell. Today, the seafood chain offers locations along the United States' Atlantic and Pacific Ocean coastlines, including a location along the beautiful Daytona Beach Waterfront. Impressive views have earned the restaurant a ranking as one of OpenTable's most scenic restaurants in America. Diners can choose from a variety of creative seafood and steakhouse entrees, including signature fish specialties such as crispy wok-fried whole fish, snapper Hemingway, Key West swordfish, and coconut shrimp served with a trio of dipping sauces. Prime rib, filet mignon, and other choice cuts can be accompanied by seafood options as well, including Alaskan king crab and lobster tails.
Address: 1100 Marina Point Dr, Daytona Beach, FL 32114
3.) Don Vito's Italian Restaurant
Don Vito's Italian Restaurant is a casual throwback Italian eatery in downtown Daytona Beach's historic retail and arts district, known for its unpretentious, traditional "meals you can't refuse." The mom-and-pop-style joint serves up some of the city's finest Italian fare at lunch and dinner, many of which come from fifth-generation family recipes. Classic pasta dishes include penne alla vodka, baked ziti, and homestyle lasagna, while land and sea fare includes favorites such as shrimp scampi, veal marsala, chicken piccata, and eggplant parmesan. Couples can also share 14 or 18-inch pizzas with toppings such as barbecue chicken, anchovies, broccoli, and ricotta or craft their own specialty calzones and strombolis. For casual lunch dates, hero sandwiches and shareable pizza pinwheels are offered, along with a selection of soups and salads.
Address: 137 W International Speedway Blvd, Daytona Beach, FL 32114
4.) Takeya Japanese Steak House and Sushi Bar
Takeya Japanese Steak House and Sushi Bar is a charming Ormond Beach hibachi spot, offering one of the Daytona Beach region's most authentic Japanese teppanyaki and sushi bar experiences. The restaurant showcases reasonably-priced Japanese-style entrees, perfect for dates looking for a unique experience on a budget. Clever Pan-Asian entree options include Thai-style coconut curry, lemongrass steak noodles, Vietnamese-style bouillabaisse, and apricot-soy glazed salmon, served up alongside a full menu of teppanyaki platters, including surf and turf options. Diners can also choose from a wide variety of sushi and sashimi options, including full platters and a la carte options. A to-go menu is available for dates looking for high-quality takeout to enjoy at home together.
Address: 220 N Williamson Blvd, Ormond Beach, FL 32174
5.) The Cellar Restaurant
The Cellar Restaurant has been voted as one of the United States' 100 most romantic restaurants by OpenTable, showcasing an outstanding wine list flanked by gorgeous gourmet entrees prepared by executive chef Sam Moggio, a 2013 Best Chefs in America award recipient. The restaurant is housed within the former historic home of United States President Warren G. Harding, originally constructed in 1907 and used as a seasonal residence. Today, the National Register of Historic Places-listed building is home to beautiful dining areas, which have been showcased on Emeril's Florida: Family-Owned and Operated. Upscale Italian-style fare served up at dinner includes homemade pasta entrees such as rigatoni alla checca, gnocchi alla bolognese, and bucatini carbonara, available alongside chef's selection entrees such as scaloppine alla veneto, carre d'Agnelo alla marsala, and salmone al'finocchio.
Address: 220 Magnolia Ave, Daytona Beach, FL 32114
6.) Caribbean Jacks
Local Restaurant voted Daytona's Favorite Waterfront Restaurant. Located in Loggerhead Marina with beautiful views of the Halifax River. Serving the freshest seafood and products available. Good selection of local Florida spirits and beers. Live bands nightly on our huge deck
Address: 721 Ballough Rd, Daytona Beach, FL 32114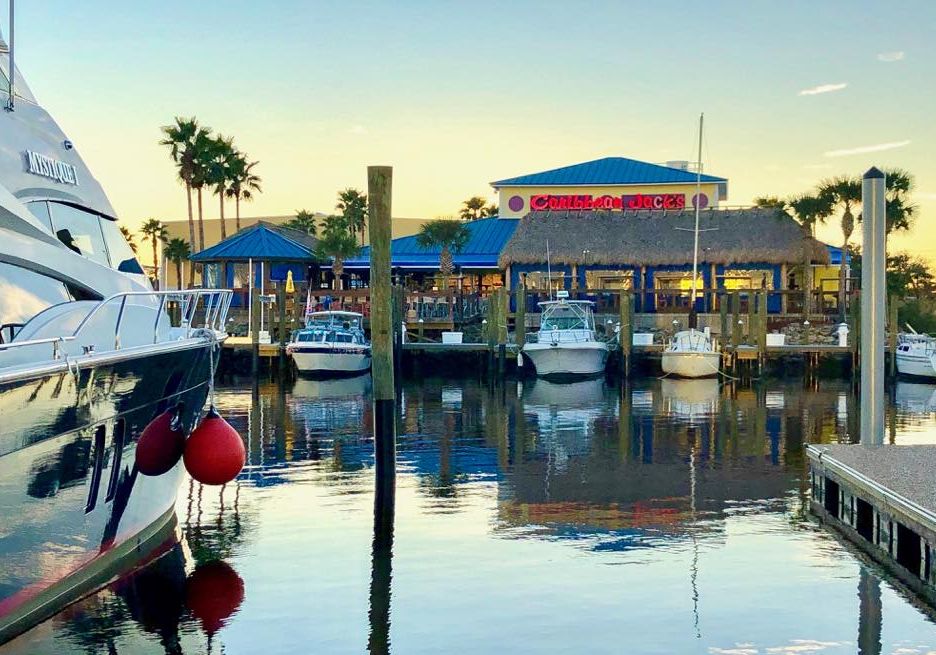 7.) Daytona Taproom
At Daytona Taproom, you'll find a relaxed environment and an establishment that specializes in offering craft beer. You'll find 50 craft beers on tap showing off many of the local favorites, as well as more obscure selections from elsewhere, adding plenty of variety to your experience. Of course, you can also find good food here with burgers, sandwiches, and salads on the menu. Every item is made from fresh ingredients, so you're sure to enjoy the food just as much as the beer. Plus, there's open mic comedy night every Tuesday.
Address: 310 Seabreeze Blvd, Daytona Beach, FL 32118